Since I've joined the teacher training program I have completely neglected this blog and every hobby and person in my life but alas I have graduated and am remembering what it's like to have a life!
June 11th marked 2 years since I moved to the UK and it has absolutely flown by. My mum has been here visiting as she wanted to see me graduate and other than frequenting the charity shops and showing her around we also managed to spend a day at Highclere Castle as she's a big Downton Abbey fan.
My first impression was that it looks so much smaller than it does on the show; it's nowhere near the size of somewhere like Chatsworth House. But we really enjoyed seeing the locations both outside and inside used for filming.
We also enjoyed pretending to be characters ringing for our butler Carson…
The inside was done up really nicely with photos shot during filming displayed in each corresponding room and there was an abundance of helpful staff answering questions. Unfortunately, they wouldn't allow photos inside the house which was quite disappointing. But we did enjoy touring through and touching everything that the actors and actresses may have touched like weirdos.
Being a massive bookworm the library was my favourite room.
For an extra £5 you could see the Egyptian exhibit in the basement which was quite interesting and full of real artifacts as well as replica's. George Herbert, the 5th Earl of Carnarvon (whose family own Highclere) was an archaeologist and made many finds including that of the legendary tomb of Egyptian ruler Tutankhamun.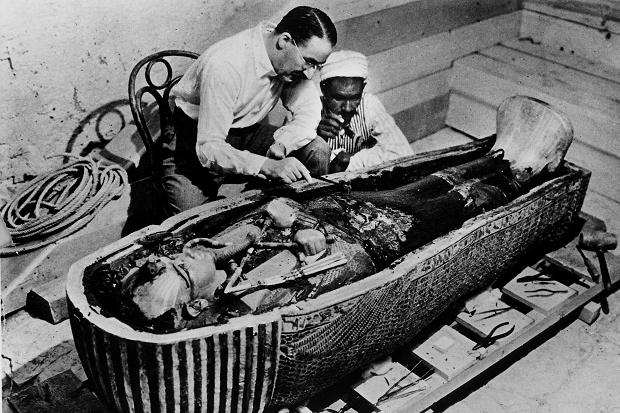 The fact that we'd watched Secrets of Highclere Castle just before we went gave us a good amount of context and allowed us to find the "secret compartment" doors which covertly housed Goerge's knick-knacks from Egypt for many years without anyone knowing before they were rediscovered. They are the doors which lead from the chandelier sitting room into the smoking room.
After touring through the house we explored the grounds and the "secret garden."
Now we've been re-watching the series and constantly shouting "I was there!" and "Remember that painting?" and "Oh look there's the doorbell we touched!"
The next day was also full of excitement as it was my graduation! I wore heels and I didn't fall although I did have a scraped knee from falling in a hole at Highclere from the day before, in flats.
I wouldn't have made it through this tough year without that amazing boy by my side.
I was especially pleased that they gave me Gryffindor colours so that I could pretend I was graduating from Hogwarts… now if only I'd brought my wand.
Now I'm just busy looking for work for September and frantically writing a new novel while I have the time before we head off to Canada for a visit.
Hope yous are all having a fantastic summer!
Cheerio! x