I like a good at-home date any old time but as we are all now forced to stay home during this pandemic and if having nothing to look forward to is getting you down then there's no better time to plan a date with your loved one at Casa Homestead :).
You could even combine a few of these and turn each room in your house into a different themed event – karaoke in the kitchen? Board games in the living room? Lovers Spa in the bedroom? We've got the ideas to turn your quarantine into a quaran-extreme! Your isolate into an iso-date! Your social distancing into… you get the picture.
1. Have a living room (or backyard picnic)
Lay down a blanket (just like when you were a kid) break out the snacks (depending on what you were able to find during your last shop this may be a mish-mash of boiled asparagus and herring but hey! At least it'll be memorable) and you could even light a few candles or add a few fairy lights to make it feel extra special. Fondue anyone?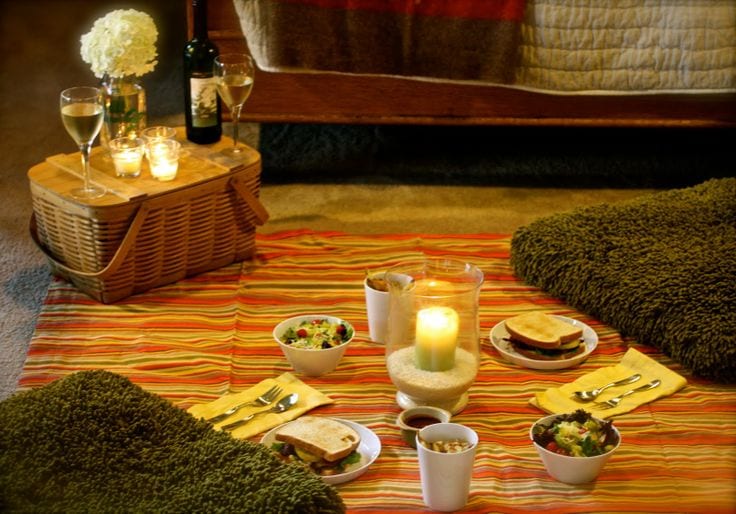 2. Make a fort
For this blast from the past all you need is an old sheet or two and something to throw it over. Make it extra cosy with some pillows and even add some lights or bunting you may have lying around the house. Watch something on the telly, play board games, indulge in some snacks, snuggle, binge watch all 8 Harry Potter movies (I'm not judging) – it's all that much more exciting when done from the comforts of your own fortress.
3. Turn your bedroom into a couples spa experience
Run your SO a hot bubble bath then treat them to a relaxing massage in the bedroom. If you've got bath robes and slippers at home this would be a nice touch. If not, knock up a homemade sign, put some nature tunes on the smartphone, light some candles and get those hands to work! You could even type up a list of which treatments are on offer at this spa for them to choose – back massage, facial, manicure, foot massage, full body, full body – hubba hubba. It's all up to you!
While He Was Napping – Spa Date
4. Have a Cook Off (Or Bake Off)
Make a little game out of who can come up with the best meal or dessert using whatever random ingredients you were able to find during your last shop. One time during a snow day we emptied the contents of our fridge and had a toastie-making contest. Award points for tastiness, creativity and presentation and come up with a prize for the winner. For example, winner gets a chocolate bar – who are we kidding? Does anyone have chocolate left at a time like this? They may have to suffice with a kiss and bragging rights this time!
5. Yoga or Workout Date
If your SO is the active type, lay out some mats (if you have them) load up a Yoga or Workout video on Youtube and follow along together. To set the mood again you could put on some nature music, light some candles and let the zen help you find your inner goat. Or something. You could even treat them to a smoothie after if you've got a blender, bananas, some kind of fruit (fresh or frozen) and some milk.
10 Minute Couples Workout Routine
6. Challenge Your SO to a Drinking Game
While you can't go to the pub with your mates or down to the hottest new club at the moment there are endless lists out there of 2 person drinking games which could be played in the comfort of your own living room. Even better, invite another couple to join you via Skype and have a group date! There are also a million games out there for different movies or TV series' or better yet, create your own rules to your own favourite flick.
27 Naughty and Nice Drinking Games for Couples
7. Set up a karaoke bar
If you happen to have a mic at home – great (maybe not so great for your neighbours but it does make it more authentic!). If not, grab a hairbrush or go acapella, load up some songs on Youtube (a search of any song followed by karaoke will likely get you a background track) and sing til your heart's content. If you've got a disco ball, disco light, light box, some sort of light-up letters left over from your wedding 3 years ago etc,. these can help to create a 'bar' type feel. Add in some fancy dress (feather boa? top hat? last year's Halloween costumes?) for a silly time.
Serve up some chips in newspaper and a couple beers afterwards to make it extra bar-like.
8. Video game & pizza date
Dig out a favourite 2-player video game and throw a pizza in the oven – or better yet – make your own creation using tortilla wraps and whatever toppings you can find to hand. Pineapple and cous-cous? Broccolli and boiled egg? Apple and artichoke? You might just be onto the next big thing!
If you scored some popcorn or crisps on your last shop – even better!
9. Family History Date (Idea from The Dating Divas)
I am hugely into genealogy so I'm surprised I didn't think of this one myself! Take some time to talk about your family history, create a tree together, then become detectives and see what else you can discover. I did this 10 years ago and since then have become a family history fanatic building my own tree of over 400 relatives and my husband's of over 300 – so proceed at own risk! It's seriously addictive.
Ancestry still remains the best online portal for creating a tree but don't worry if you can't afford the subscription fee – you can build and upload files for free (you just can't access their records). A great starting point for free records is familysearch.org and findagrave.com

Dating Divas – Family History Date
10. Youtube Video Challenge
When Youtube first came out I would get hours of enjoyment with friends sharing our repertoire of hilarious vids with one another (see Jon Lajoie, Steve Kardynal, The Lonely Island, News Anchor Bloopers etc,.) and many an evening has been spent reminiscing over old music videos – which still make a fantastic date or evening with friends.
But in a bid to make some new discoveries come up with a scavenger hunt list of videos you and/or your partner need to find, load these up and share. Your list could include: a prank video, a video about something you're afraid of, your all-time favourite music video, the first video you ever watched on Youtube, a video about a topic you're interested in, etc,. or you can use this handy dandy list from the dating divas!
Youtube Scavenger Hunt Date – Dating Divas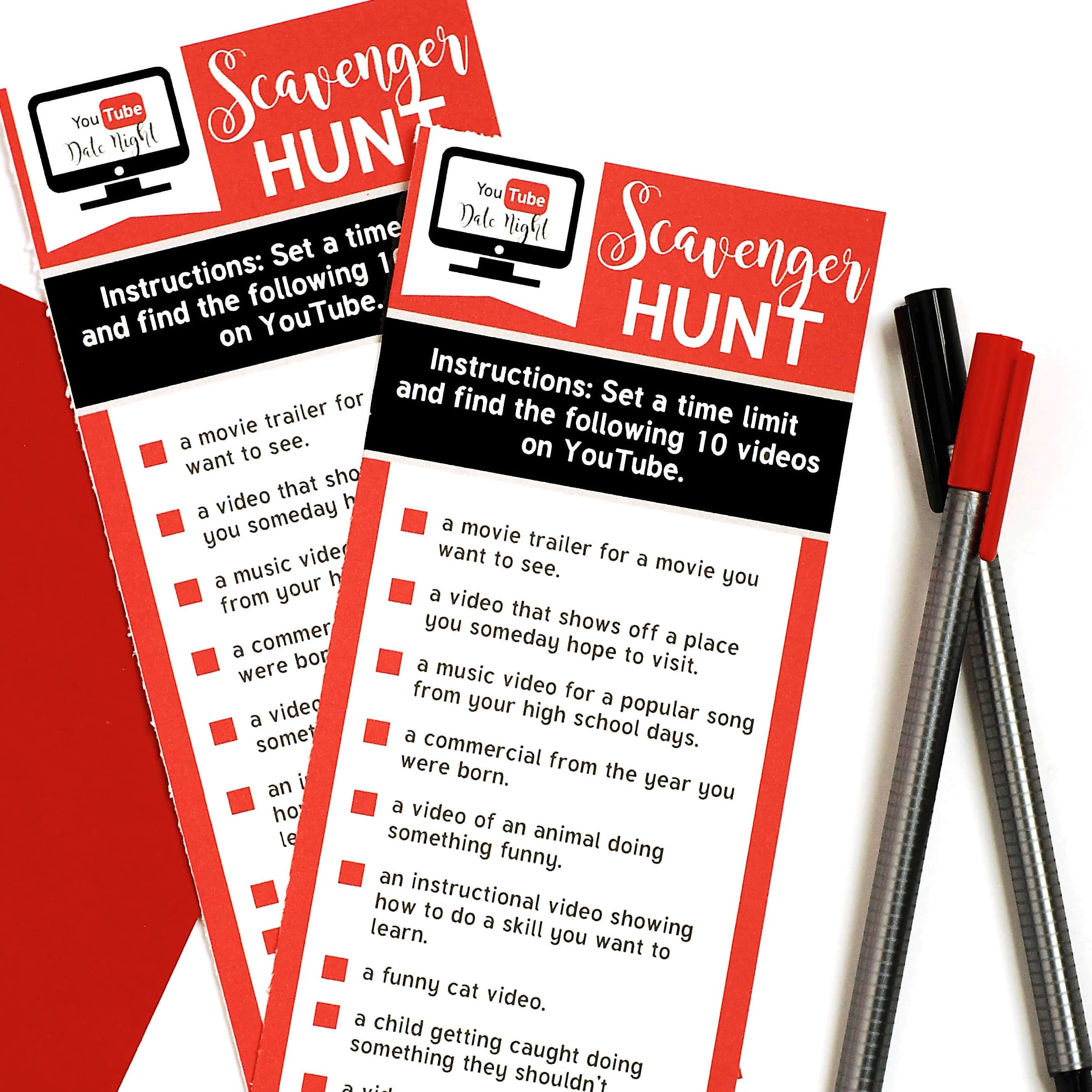 11. Start a book club with your SO
Grab a mug of your favourite hot drink, some cozy socks and pastries and take a trip to cafe a la bed. This date could be done as a couple or you could even start this with a willing group of friends and have a weekly Skype discussion. Pick a book together and take turns reading a chapter to one another – jot down some questions or thoughts as your partner reads and have them do the same when you read. After a few chapters share your thoughts and questions with one another.
A List of 40 Book Club Questions for Any Book
12. Dance Date!
There are just so many great options with this one – whether it's putting on some old classics and swaying in the living room before watching a black and white film (if you've never seen It's a Wonderful Life watch it. Right now), whether it's putting on your favourite dance hits and jumping around the living room like loons or whether you will take this opportunity to use a tutorial to learn some new moves – you can bet that all of the above will boost your spirits.
Always wanted to learn the moves to 'Thriller' or 'The Git Up?' Always wanted to learn the foxtrot? There's no better time! P.S. if it's ballroom you're after and you're a beginner I highly recommend the Jive – it's so much fun and the steps aren't too hard. I also highly recommend Kevin and Karen videos – I used to use these as an introduction to dance with my Year 3 class. If they can do it you can do it. Do it!
Learn The Jive with Kevin and Karen
Please feel free to share your creative date ideas below and though we're apart we're all in this together! Also, just remember where there is tea there is hope!